Your Treasures and Heirlooms
Dolls and toys are something that characterize special and sentimental moments in time for all of us. Glimpses of a generation when life was much simpler and our day to day thoughts were carefree and happy. As time passes, the effects of playing, holding, hugging, or even just sitting silently and dormant has some impression on each piece. Unfortunately, we often reach back and find our beloved plaything, slipping away to the deterioration that time imparts upon all of us and our childhood dreams. Choosing the right person for helping us to reach these dreams again is something that everyone should consider very seriously...
Over the decades, the Indiana Doll Hospital has served many different types of clientele ranging from private individuals, museums and organizations, as well as fine collectors. One of our core values that we adhere to is that we always treat everyone equally and always in how we wish to be treated ourselves. We always try to keep our promises and maintain the expectations that you have of us. Our professionalism, workmanship, and quality of service is what distinguishes us from other repair facilities.
Here are examples of areas in which we specialize:
• Bisque

• Porcelain

• China

• Hard Plastic

• Modern

• Celluloid

• Wood

• Papier-mβchι'

• Metal

• Vinyl

• Some Wax
As you look at the next few pages of our website researching and trying to decide who should repair your treasured piece, be sure to keep in mind that in this industry, not all restoration facilities are created equal. I would encourage you to compare each company's finished pieces, their availability, and definitely check with references/clients to decide where you should take the most valuable thing that you possess....your memories....
Again, thanks for visiting us and God Bless you in the future!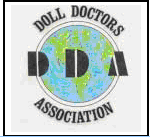 All major shipping methods are accepted: USPS, UPS, Fed-Ex, and DHL
Note: Do NOT ship ANY items prior to contacting us for specific instructions on how to protect your cherished pieces! We will NOT be responsible for any damage that occurs to items that are mishandled or lost during shipping.